---
---
---
Personal Profile of: Nicolás Maduro Moros
Birth date: November 23, 1962
Birth place: Caracas, Venezuela
Birth name: Nicolás Maduro Moros
Parents: Names unknown publicly
Marriage: Cilia Flores
Children: Nicolás Jr.
Other Facts:
Worked as a bus driver for Caracas Metro, (Nick-Naked: The singing bus-driver, the laughing bus-driver, The Story-Teller, Performing Artist Bus-Driver ), and belonged to the transit union.  Maduro campaigned for Hugo Chavez's release from prison for the 1992 attempted coup to overthrow President Carlos Andres Perez.  After Chavez's release, Maduro helped him found the political party Fifth Republic Movement of Venezuela.
Historical Timeline Profile of: Nicolás Maduro Moros
1983 – Mr. Maduro was hired as Bodyguard for presidential hopeful Jose Vicente Rangel.
1992 – Is introduced to Hugo Chavez.
1999 – Mr. Maduro is elected to the National Constituent Assembly, the body convened to draft a new constitution.
2000 – Is elected to the National Assembly, the country's legislative branch of Venezuelan government.
2005-2006 – Serves as Speaker of the National Assembly.
2006-2013 – Serves as Foreign Minister.
October 12, 2012 – Is selected by President Chavez to serve as his vice president.
December 9, 2012 – President Hugo-Chavez Facing his fourth surgery for cancer, Chavez endorses Maduro to succeed him.
March 8, 2013 – VP Nicolás Maduro Moros is sworn in as interim president following the death of Chavez three days earlier.
April 14, 2013 – Wins the presidential election by fewer than two percentage points over Henrique Capriles Radonski.
April 19, 2013 – Maduro is sworn in a day after the National Electoral Council announces plans to complete an audit of votes cast in the April 14 election "to preserve a climate of harmony between Venezuelans."
September 30, 2013 – Maduro announces on state-run VTV that he is expelling three US diplomats. He claims they were involved in a widespread power outage earlier in the month. "Get out of Venezuela," he says, listing several names. "Yankee go home. Enough abuses already."
February 12, 2014 – Student protests in Venezuela that started earlier in the month attract global attention when three people are killed. Major social and economic problems have fueled the protests, with some blaming Venezuela's government for those problems.
February 20, 2014 – Venezuela revokes press credentials for CNN journalists in the country and denies them for other CNN journalists entering the country, following Maduro's announcement that he would expel CNN if it did not "rectify" its coverage of anti-government protests, calling it war propaganda.
February 21, 2014 – Maduro calls for US President Barack Obama to "accept the challenge" of holding direct talks with Venezuela.
February 22, 2014 – Venezuela re-issues press credentials for CNN journalists in the country.
January 15, 2016 – Following the release of years of economic data, Maduro declares a state of "economic emergency."
May 13, 2016 – Maduro declares a "constitutional state of emergency," which expands on the "economic emergency" he declared in January.
October 30, 2016 – Maduro sits down to engage in talks with political opponents for the first time in two years, in order to find a compromise among Venezuelan political parties.
July 31, 2017 – US Treasury Department sanctions freeze Maduro's assets subject to US jurisdiction and bar US citizens from dealing with him. This comes a day after elections are held for a new lawmaking body in Venezuela. The department says the National Constituent Assembly "aspires illegitimately to usurp the constitutional role of the democratically elected National Assembly, rewrite the constitution, and impose an authoritarian regime on the people of Venezuela.
---
I am a Remote-Viewer and Fictional Science-Fiction Amateur Writer.
I am bring you insight into this blog-table of content.
Read on.
Politics always have strange bed fellows, as a known fact that now acting Venezuelan President Nicolás Maduro (Moros) is the fervent devotee of the late Hindi Guru: "Sathya Sai Baba".
Many refer to President Maduro as an inconsequential obvious puppet of Chavez. President Maduro was a former Venezuelan bus driver. This does Mr President Maduro no justice as valuable leader. Maduro is a descendant of the very influential Maduro clan, who hold positions of power in Central and South America, and have done so for decades.
Surprisingly enough,  Venezuelan President Nicolás Maduro (Moros) is a well-educated and well-connected man though he makes it increasingly hard to believe this former mentioned. Judging by Mr. President Nicolás Maduro (Moros) recent rhetoric by verbatim.  These actions leads to global audiences and analysts to translate Mr Nicolás Maduro (Moros) is being payed-off.
Chinese, Russian, Israeli, middle-east, and U.S. analysts who work for military industrial complex think-tanks traced huge currency transfers into off-shore accounts by international anonymous donors, assumed, international banking and financier interests. Interests are pharmaceutical, mineral, and petroleum industrial complex interests. This money trail leads to Venezuelan President Nicolás Maduro (Moros).
In the demise of former Venezuelan President Hugo Chavez, Maduro, (and keep in mind that the name "Maduro" definition translates to "The Mature'), had ranted against the United States.Mr President Nicolás Maduro (Moros) accused the U.S.-West of poisoning Chavez with cancer.  A year earlier, he called his political opponents 'big faggots', something no one would expect from a man who is widely considered a thoughtful pragmatist and a person of spiritual studies. Keep in mind, poisoning late Venezuelan President Hugo Chavez.
U.S. and its Cyber-Security allies all use remote-viewers that connect to people through their IP addresses, they use electronic .JPEG image photographs via Psychometric-Reading and other techniques in remote-viewing and bilocation. Their accuracy is 100%, because they use quantum-entanglement computers, (and for lacking better definitions), that are psychic. That is right psychic computers. These computers amplify the remote-viewers and or psychics-agents abilities to multiple levels not humanly possible.
These Cyber-Security Psychics all found the same detailed information, all where compartmentalized, no participants had any contact what-so ever with each other. -i.e. All where in separate remote locations scattered throughout the world. | Now, Mr. Nicolás Maduro (Moros) infected late president Hugo Chavez with cancer and drugged Hugo Chavez with substance similar to "scopolamine" used in sea-sickness pills inducing mind control, brain-washing Mr. Hugo Chavez making Mr. Nicolás Maduro (Moros) his successor into presidency; as Venezuelan President. Those who assisted him are the financiers. Simply remarkable.

Mr. Maduro (Moros) was personally handpicked by Chavez.  Chavez himself was not unlike Mr. Nicolás Maduro (Moros) with odd personality types. Both advocated very outlandish ideas. Chavez e.g. suggested in public that 'the civilization of Mars had been destroyed by capitalism', seriously not a joke. Does this not sound as abstruse as Sai Baba's declaration that he was himself an enormous magnet or that he can lift mountain ranges?
---
Sguru Sathya Sai Baba devotee:
Venezuela President Nicolás Maduro (Moros)
He, Venezuelan President Nicolás Maduro (Moros), verbalized that he has cursed, (yes CURSED), all those who do not vote for him. Not very spiritual in my perspective.
This verbatim by Mr. Nicolás Maduro (Moros) was published on ITV News. Venezuelan acting President, Mr. Nicolás Maduro (Moros) has said "a centuries-old curse would fall on the heads of those who do not vote for him in next week's election to pick a successor to late leader Hugo Chavez."

Maduro's, by invocation, invoked the "curse of Macarapana" was the latest twist in an increasingly surreal fight between him and opposition leader "Henrique Capriles" for control of the South American OPEC nation of 29 million people.
Quote: CARACAS, April 17 (Reuters) – Venezuelan opposition leader Henrique Capriles distanced himself from post-election street violence after seven fatalities threatened to turn the South American OPEC nation's vote dispute into a full-blown crisis. :Unquote
Cyber-Security (Hive Mind Remote-Viewers via Quantum-Entanglement Computers): Observed was Socialist Communist AntiFa/Anti-Fascist movement-group often used by Germanic ask`a`nazi billionaire financiers and banking cabals to over throw elections and strong arm via passive-aggressiveness and lastly with street thug violence resolved by investigative psychic hive-mind via deep military industrial complex off-world and on-world hive-mind.
"If anyone among the people votes against Nicolás Maduro (Moros), he is voting against himself, and the curse of Macarapana is falling on him," said Maduro. Mr. Nicolás Maduro (Moros) referring to the 16th-century Battle of Macarapana when Spanish colonial fighters massacred local Indian forces.

Maduro blasts devil Obama
Maduro, a self-proclaimed follower of the late guru Sathya Sai Baba, whom he visited in 2005, appears to be anything but a peacemaker.
Sai Baba 'inner'views Nicolas Maduro and family (2005)
Hugo Chavez anointed Nicolas Maduro to succeed him as Venezuela's President. The few that realized he would become Latin America's Robert Mugabe, (Robert Gabriel Mugabe is a Zimbabwean revolutionary and politician).
After all, Venezuelan President Nicolás Maduro (Moros) had a reputation as a conciliator. He was physically imposing — a big, burly man — but not charismatic and not known for his ambition. The former bus driver had limited formal education and gave the impression of rising through the revolution's ranks — head of the national assembly, foreign minister, deputy president — at Chavez's behest.
Venezuelan President Nicolás Maduro (Moros) is known to have ties with cartel, mafia, globalist financiers and little tweety-bird's that are psychic mediums channeling the late Venezuelan President Hugo Chavez giving financial and spiritual guidance and direction.
Though raised a Roman Catholic, he was a follower of the late Indian spiritual guru Sai Baba and was a bit of a hippy with a penchant for John Lennon and Led Zeppelin. "Our side is peace, love and tolerance, and non-violence" he said.
Three years on, that sounds Orwellian in the least as history tells. Venezuela have become a basket case and Maduro, born November 23, 1962, is on his way as the Venezuelan dictator starving the Venezuelan people to death.
The government banned protests and mobilized 370,000 troops for a constituent assembly to rewrite the constitution and grant Maduro more powers over Venezuela. The election was boycotted by the opposition, and has been denounced around the world as an attack on democracy and freedom replaced by 1984-orwellian national security.
It comes after four months of street protests, civilian deaths by the thousands by starvation, by murders, death by military-police and violent repression that have left more dead with each passing hour, countless thousands in jail and the country in chaos. All deaths listed are related to the on going crisis in Venezuela.
The rearrest of two of Venezuela's most prominent opposition leaders in midnight operations on Tuesday prompted further condemnation of Maduro's government — which was already accused of attempting to seize absolute power in the crisis-hit country.
When widespread protests began against the government, over 200 people have been killed. According to the prosecutor's office, 16 died on Sunday during the election. More than 5,000 people have been detained by security forces and detainee death's have been not recorded in the past months.
Over 2,000 remain in custody, according to Foro Penal, a human rights monitoring group. By the organization's count, there are over 500 political prisoners in the country and all civilian and politicians are condemed as political prisoners enacting violence and terrorism; translates death sentence.
Constituent Assembly elections were held in Venezuela on 30 July 2017 to elect the members of the 2017 Constituent National Assembly. Wikipedia. The argument this, (Constituent Assembly), movement would create peace. This fosters dialogue polarized by a country suffering severe economic crisis.
The opposition blames current "Venezuelan President Nicolás Maduro (Moros)" government mismanagement. The Venezuelan government lays the blame by definition; "economic war" against Venezuela are all who oppose the Constituent Assembly.
On Monday, the United States imposed individual economic sanctions on Venezuelan President Nicolás Maduro (Moros), calling him a "dictator who disregards the will of the Venezuelan people". This may lead to a U.N. police action to save the people many assume or all out war that will spread throughout South/Central America with opposition to the United States of America via war conflict.
Venezuelan President Nicolás Maduro (Moros) had previously frozen the assets of 13 senior government officials and managers at the state oil company.
The measures are largely symbolic, and the US has so far held back from imposing broader sanctions on Venezuela's oil industry which could have a devastating impact on the country's economy. Venezuelan President Nicolás Maduro (Moros) brushed off the move, saying: "The threats and sanctions of the U.S. Empire don't intimidate me for one minuscule moment. I don't listen to orders from that Empire, not now or ever shall. Bring on more sanctions, Donald Trump."
Venezuelan President Nicolás Maduro (Moros) had also called upon the U.S. Empire's actions are a declaration of war.
SO, the global Cyber-Security Hive-Mind Remote-Viewers analysts where correct again. Defined eight months ago by these MiC psychics is U.S. will be drawn into a war with South/Central America.
The country is reeling from electrical power outages, hyper-inflation, rampant cartel/mafia crimes and massive shortages of food, medicine and other basic goods and necessities. With foreign reserves evaporating into the Venezuelan cabal pockets, Venezuela may default on billions of dollars of debt payments which how war may start. All this in a country with bigger oil reserves than Saudi Arabia and the folly continues as Venezuelan President Nicolás Maduro (Moros) receiving huge financial pay-back for dissolving his country into the hands of international globalist financiers and private international Banking system via IMF.
Instead of trying to negotiate a truce with the opposition or flee, Maduro has doubled down in the presidential palace in Caracas, and his cast this as an existential moment of Constituent Assembly and his Cabal. "We have no other option between winning and dying," he told a rally outside the palace walls. "The oligarchies of the world have reacted because they fear a new Venezuelan constitution. Who do we obey? In Venezuela, the people govern."

In person, Maduro can be affable, even charming. The son of a union leader, he began his political career as president of the students' union at Jose Avalos high school in El Valle, a working-class neighborhoody on the outskirts of Caracas. He is remembered as a flexible, pacifying figure who liked to negotiate.
And the movement he heads — chavismo — was once a beacon for the world's Left, a socialist revolution that won elections, empowered the poor and challenged US hegemony in Latin America. Now, in Leftist circles, Maduro is seen, at best, as an embarrassment — the heir who screwed up Chavez's legacy, but most of all keep this in the present moment what Cyber-Security below shall define this moment.

Venezuelan President Nicolas Maduro, the Constituent Assembly and the event creating Globalist Cabal have scripted most every move Venezuelan President Nicolas Maduro makes. Chavismo was originally created by the Globalist Cabal of Global Private Banking institutions and be`it IMF. This was all planned for Venezuela and other countries to fall into place for a global conflict of profits gained. This was envisioned by the vast military industrial complex quantum-entanglement Cyber-Security Hive-Mind since after WWII.
In reality, Venezuela's ruin is rooted in Chavez's rule, a 14-year melodrama of populist thunder, marathon speeches, televised event driven scripted stunts, spooky shadowy figures creeping authoritarianism and bungled economic policies that ended with the comandante's death from induced cancer in 2013 by Venezuelan President Nicolás Maduro (Moros). Chavez bequeathed grave problems — and Maduro, the sellout, made them worse.
After leaving school without a diploma, Maduro reportedly considered joining a rock band before a studying stint in Cuba. Back home, he joined Venezuela's Socialist League and drove a bus for the Caracas Metro company. He became a union negotiator and, in the early 1990s, a member of the civilian wing of Chavez's military movement.
Chavez, a former tank commander, was in jail for a 1992 coup attempt.
Maduro met and married Cilia Flores, part of Chavez's legal team and Globalist Cabal conspirator. When Chavez won the 1998 election, the duo became a power couple, Maduro rising to head the national assembly, Flores becoming attorney general.
In 2006, Chavez appointed Nicolás Maduro (Moros) as foreign minister, a role he performed dutifully for six years, breaking and mending relations with Bogota, assailing Washington, wooing Tehran, briefing Havana and making allies for the next scripted World-War.
As Chavez's radioactive-isotope cancer worsened, he named Nicolás Maduro (Moros) his deputy and heir to presidency in December 2012.
Some wonder whether Maduro really wanted the crown, and they where right, cause he feared the Globalist Cabal pushing him till this point, but either way, he accepted it. Venezuela swiftly discovered a newly garrulous, combative and folkloric Nicolás Maduro (Moros) and with a demented child-like mindset. He claimed Chavez's spirit visited him in the form of a little yellow tweety-bird.
He won a disputed election in 2013, but the slender margin shook the revolution — millions of supporters abstained in protest at economic woes. Two years later, the opposition swept national assembly elections.
Maduro faced a dilemma. Price and currency controls as well as expropriations and nationalizations withered agriculture, manufacturing and tourism. Tumbling oil revenues made it harder to mask the fiasco.
Despite the protests and sanctions, the former bus driver trundles on-wards, taking Venezuela over a a Globalist Cabal pre-scripted cliff unknown to all, but with one exception, for those who read this.
---
Idiots Note: Economic collapse happens when the functions of it distribution destroyed. As we see in Venezuela, means no access to basic self-preservation essentials like food, water, electricity and over-all utilities. With no law and order the imported and payed for vandalizing rioteering-looters rampage through the villages and city streets in anarchy.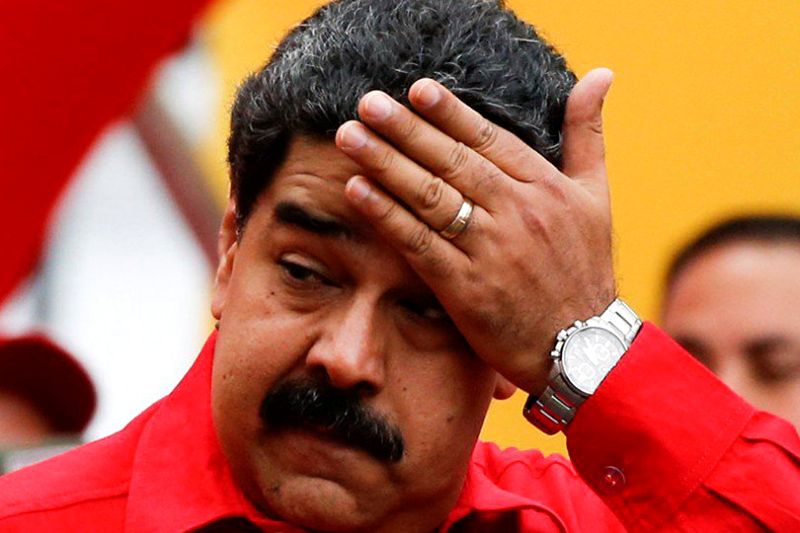 ---
---